e-Think Sport 2021: 4 themed mornings (clubs, leagues, media, marketing) from 26 to 29/01/2021
e-Think Sport 2021, the fifth edition of the annual event usually organised in person in Paris (FRA) over one day by News Tank Football, is scheduled this year by video-conference over four consecutive mornings, from Tuesday 26 to Friday 29/01/2021. Join in the sessions with free registration, (links below).

Each of these half-days is dedicated to a specific area:
● Clubs: Tuesday 26/01/2021.
● Leagues and Federations: Wednesday 27/01/2021.
● Media: Thursday 28/01/2021.
● Marketing: Friday 29/01/2021.

The programme for this week, which promises to be rich in debates and discussions, will be in the presence of inspiring European football and sport executives who will help us understand the sport of tomorrow in order to launch the year 2021, one which must be a year of post-pandemic rebound.

• 2021 e-Think Sport Ambassador: Jean-Michel Aulas

Président @ Olympique Lyonnais (OL) • Membre du comité exécutif @ European Club Association (ECA) • Président de la commission du football féminin @ European Club Association (ECA) • Membre du… , president of Olympique Lyonnais

Activity: French professional club (men's and women's teams) Premium Partners: • adidas (equipment supplier) 2010-2025 • Fly Emirates (airline company): main shirt sponsor for Ligue 1 Uber Eats… , who open the proceedings on Tuesday 26/01/2021 at 09:00 CET Central European Time .
• Guest of Honour at e-Think Sport 2021: Andrea Agnelli

Member ot the board of directors @ IFI S.p.A. (now EXOR S.p.A.) • President and founding shareholder @ Lamse S.p.A. (holding) • President @ Juventus FC • Vice president @ The Super League… , chairman of Juventus FC

Activity: Italian professional football club Main partners: • Jeep (car manufacturer): €45m per season for 2021-2021; €42m per season for 2019-2021; €17m per season for 2015-2019; €13m per… and the European Club Association (ECA

European Club Association ), on Wednesday 27/01/2021 at 09:30 CET.

Major French football clubs (Olympique Lyonnais, Olympique de Marseille

Activity: French professional football club Primary partners: • Puma (kit supplier): since 2018-19 until 2028 • Uber Eats (food delivery): main shirt sponsor, 2019-2022, then Cazoo (vehicle… , FC Nantes

Activity: French professional football club Main partners: • Synergie (human resources): main shirt sponsor, 2013-2023 • Macron (equipment supplier): 2020-2025 Official partners: … , Stade de Reims

Activity: French professional football club Major Partners: • Umbro (equipment supplier): 2019-2024 • Reims Métropole (local community) • Ville de Reims (local community) • Hexaom (real… ), international clubs (FC Bayern Munich

Activity: German professional football club Major partners and/or shareholders: • Deutsche Telekom (telecommunications): shirt sponsor, until 2022-23 • adidas (equipment manufacturer): €60m per… , Manchester United FC

Activity: English professionnel football club (Premier League) Principal Partners: • Chevrolet (American automobile group, division of General Motors): shirt sponsor (since June 2014, until… , AS Roma

Activity: Italian professional football club Main partners:• New Balance (equipment manufacturer): from 2021-22, estimated at between €3-4m per season• Digitalbits (blockchain) : main shirt… ), leagues (LFP La Ligue de Football Professionnel, the French professional football league , LNR

League Nationale de Rugby: French national rugby league ) and federations (FFF

Fédération Française de Football (French Football Federation) , FFT, LNV), agencies (Dragon Rouge, Leroy Tremblot

, SportFive

Sector: media and marketing rights agency - Activites: consulting, sale of hospitality products, activations, sale of marketing and media rights, strategic and creative marketing, production and… ) and sponsors (AG2R, Citroën

, Orange

Sector: telecom Founded: 1988 (as France Telecom) Headquarters: Arcueil (France) Presence: 28 countries CEO: Stéphane Richard Shareholders: French State (13.4%) Bpifrance Participations (9.6%)… ), media rights experts and innovative companies (Immersiv.io, Socios.com

Sector: token voting platform (mobile application) using blockchain technology Shareholding: Chiliz, cryptocurrency platform dedicated to sport and entertainment, owned by Mediarex Group Founded… , Sportall

Sector: OTT sports platformFounded: 2019Headquarters: Marseille (France)CEO: Thierry BoudardMain partners:• French Football Federation (Futsalzone.tv application)• French Athletics Federation and… , and more): will all come together to share their thoughts on a world of sport that is evolving like never before.
---
e-Think Sport 2021: the complete programme
Tuesday 26/01/2021 - Morning 1 "CLUBS"
• At the heart of the football business model, clubs are now developing beyond their basic activity via new sporting sections, new digital avenues, but also through an increasingly marked social and environmental commitment (all times Central European Time Central European Time ).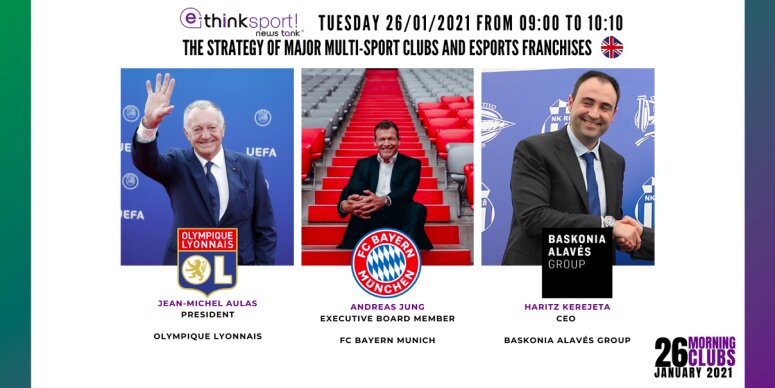 Wednesday 27/01/2021 - Morning 2 "LEAGUES and FEDERATIONS"
• Leagues and Federations must face the Covid-19 crisis. What are the ways to reinvent oneself and adapt to new modes of consumption, new competitions, new practices, new experiences and innovative digital services?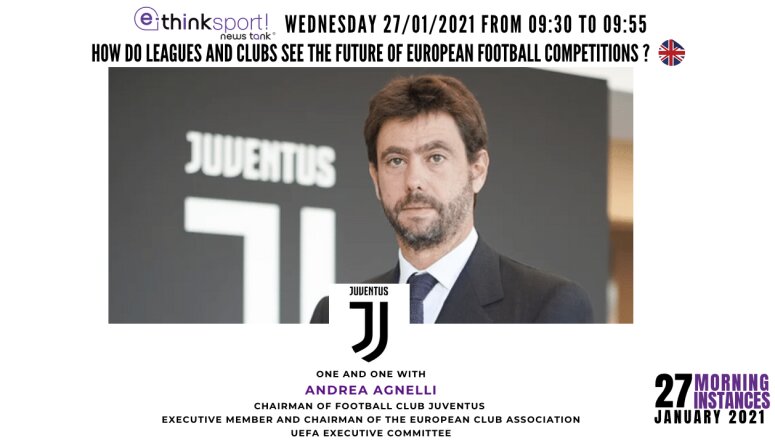 Thursday 28/01/2021 - Morning 3 "TV and MEDIA"
• A crisis of existing business models, new entertainment offerings, a "lost" generation of young spectators, new platforms and new actors, how will the sports media landscape of tomorrow take shape?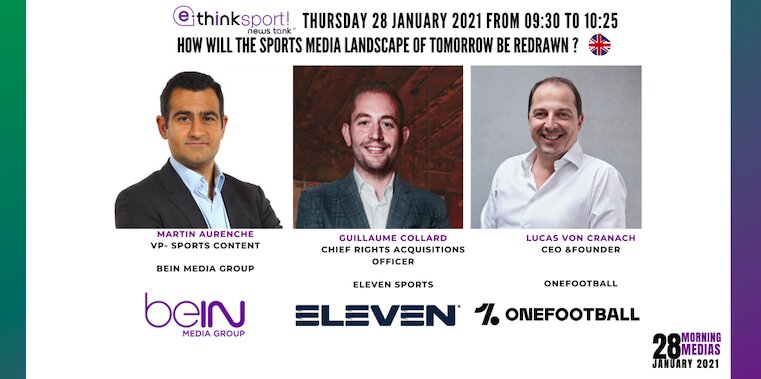 Friday 29/01/2021 - Morning 4 "MARKETING"
• How sports marketing is being reshaped. Offers, targets, activations, image, co-branding, innovative partnerships, etc. All this in a challenging health context and an increased demand for social and environmental responsibility.