Exclusive

OneFootball: "A differentiated, user-centric approach to content" (L. von Cranach, founder and CEO)

"OneFootball has a differentiated approach, a user-centric approach. Being a pure football platform, we aggregate different sources of content with a neutral view. On top of that, we add our editorial touch through our own content. The idea is to be the 'one-stop-shop' for any football fan," said Lucas von Cranach, founder and CEO of OneFootball to News Tank Football on 11/09/2020.

"The media platform is the fundament of our offering to which we add layers like OTT Over-the-top, content provided through the Internet. streaming, which makes us enter the direct-to-consumer business. Our business model is therefore first a BtoBtoC advertising model through our media platform and the free-to-air live matches in markets that are most relevant to partners regarding timing, audience size and the capacity we have to target specific audience groups. Then, we act as a distributor for live matches via OTT on a pay-per-view basis," continued the head of the football media platform who signed an agreement with AS Monaco FC

Sector: French professional football club Main Partners: • Kappa (kit supplier): 2019-2025• eToro (trading): partner since 2020-21, main shirt sponsor in 2021-22 for Ligue 1 matches, main shirt… (Ligue 1 Uber Eats

Name of the French Ligue 1 championship for the 2020-2022 cycle.

Uber Eats, a home meal delivery application and subsidiary of Uber an independent driver mobile application, has become the title… ) on 10/09/2020.

"Through our model, a media platform via an app, we have a clear focus on a young audience. Older audiences tend to go to publishers. Young users though value our aggregation just like they value Spotify

Sector: music streaming platform of Swedish originFounded: 2008 CEO: Daniel Ek • Key figures (December 2021): • 180 million paid subscribers • 381 million users per monthWorkforce (2021): 6,617… for music, Instagram

Sector: social network • Monthly users (as of 20/06/2018): 1 billion Founded: 2010 Co-founder and CEO: Kevin Systrom Shareholder: Facebook Turnover (2017): $ 40.653bn… for content snacking, etc. They are looking to find the answer to 'How can I kill my time in the best way?'," added Lucas von Cranach who answered questions from News Tank Football.
---
OneFootball is now a partner of AS Monaco FC (Ligue 1 Uber Eats). What does this say about your ambitions in the French market? How important is a partnership with a club to enter a market?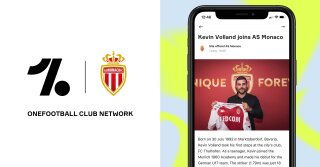 It is very important. French is one of our core languages in which we produce content, alongside German, Spanish, Italian, Portuguese and English. Hence, France is obviously a key market for us. To have AS Monaco FC on board as a partner is crucial, and we hope that it is just the first of many agreements with French clubs. Our solution and user-centric approach is beneficial to any club. AS Monaco is one of the biggest, strongest, most recognized football brands in France with a great past and one of the few clubs with an international appeal. Moreover, the club is a driving force when it comes to digital innovation.
OneFootball also announced recently that it is broadcasting the K League for free in France?
We never guarantee a minimum fee on our deals

 »
Correct, it is a distribution deal similar to what we do on a pay-per-view basis in Germany with Sky

Sky Deutschland • Country: Germany, Austria and Switzerland (german language) • Headquarters: Munich (GER) • Founded: 1991 (under the name "Premiere") • Business sector: satellite pay-TV group… for the 2.Bundesliga German second division. 18 clubs. and the German Cup

German National Cup , for example. We do not acquire these rights - it would require hundreds of millions of Euros to do so in Germany - but we enter into a distribution partnership with the rights holder. Then the rights holder decides on the model, whether to put it up for free, like for the K League

South Korean first division, 12 clubs , or to put it behind the pay-per-view wall. If it is a pay-per-view approach, the partnership is based on a revenue share. We never guarantee a minimum fee on our deals.
Germany: pay-per-view offer for second division and Cup matches via OneFootball extended for 2020-21
• The pay-TV group Sky Deutschland has extended its pay-per-view offer in Germany, in cooperation with the Onefootball application for the 2.Bundesliga and DFB-Pokal for the 2020-21 season, according to the football media platform on 11/09/2020.
• Matches are available individually for €3.99 via the Onefootball application.
• The agreement between Sky and Onefootball also allows the application to offer highlights of Premier League matches.
• Sky Deutschland launched this offer for the 2019-20 season on 21/08/2019.
What is your current business model? Does OneFootball define itself as media or a platform? Which business model are you heading towards in the medium term?
We see the football week as a journey for the fan

 »
We see the football week as a journey for the fan. Our goal is to be there during the entire week and to offer the best suited content, the best product at any time of the day.
OneFootball has a differentiated approach, a user-centric approach. Being a pure football platform, we aggregate different sources of content with a neutral view. On top of that, we add our editorial touch through our own content. The idea is to be the 'one-stop-shop' for any football fan. The media platform is the fundament of our offering to which we add layers like OTT Over-the-top, content provided through the Internet. streaming, which makes us enter the direct-to-consumer business.
We could add a subscription model in the long run

 »
Our business model is therefore first a BtoBtoC advertising model through our media platform and the free-to-air live matches in markets that are most relevant to partners regarding timing, audience size and the capacity we have to target specific audience groups. For example, the K League we offer in five different markets (France, Italy, Spain, Brazil and UK) and in Germany we show the fourth division for free via Sporttotal. Our platform is scalable: more users means more engagement, and the more we have, the more attractive we are for interested parties. Then, we act as a distributor for live matches via OTT on a pay-per-view basis. Today, we only offer the pay-per-view model, but we could possibly add a subscription model in the long run.
Why have you chosen a closed platform model?
A big differentiating aspect of our platform is the fact that it is a closed one

 »
A big differentiating aspect of our platform is the fact that it is a closed one. We decide on the content sources and who can distribute it. I decided to go for that solution, because I think it is more relevant in the long run for users and enables a better experience. On top of that, no user-generated content means that our platform is 100% 'brand safe'. Especially nowadays, brands that are investing in web or in-app advertising are more and more vigilant when it comes to user-generated content because of comments linked to racism, homophobia, etc.
A closed platform, and the way we target fans with customized content based on their interests, is valuable for our business partners. It is easier for us to commercialize something in a segmented way to a specific target group.
What are the specifics of the French market from your point of view? How can this be leveraged?
We are not a competitor for publishers

 »
France is a centralized market with L'Equipe

Sector: French sports media group (press, TV, Internet et mobile) Founded: 1946 Principal associate: Les Editions P. Amaury President: Aurore Amaury Chief Executive Officer: Jean-Louis… that acts as a content hub. Our model can easily coexist with such a model. We are not a competitor for publishers. In fact, we want to partner with all parties that create football content in France. We need to make sure we provide the best experience to our users, be it in terms of user interface or content offering. If we have the best content, and a user-friendly app, we will be the best, most comprehensive platform for football fans.
As a media platform, we have the same approach in each market we address. When it comes to OTT Over-the-top, content provided through the Internet. and on-demand highlight clips, it has to be a market to market approach since the rights are sold market by market. In France, we definitely have room to grow when it comes to OTT.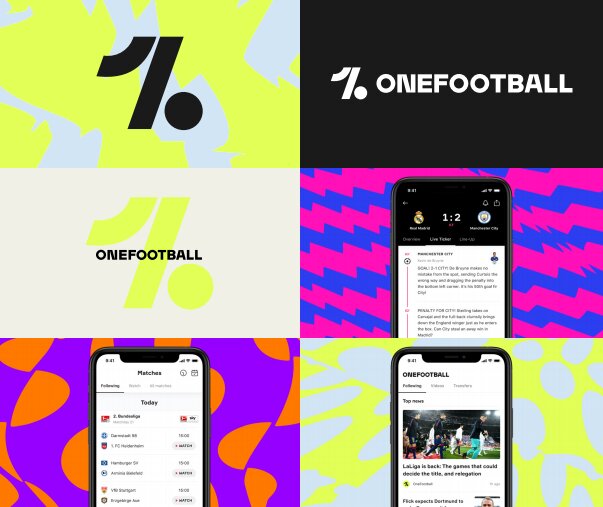 OneFootball just changed its brand identity recently...
Very few users recognized us as a brand

 »
We needed a new brand identity because in the past we were primarily perceived as a tool or a service. Very few users recognized us as a brand. When Franz Koch, who previously was global CEO at Puma

Sector: Sports equipment supplier Founded: 1948 Main shareholders: Artemis (28.4%), Kering (15.9%) Main Brands: Puma, Cobra Golf, Dobotex, Brandon CEO: Bjørn Gulden CFO: Hubert… , joined OneFootball as COO, he immediately initiated the brand project. It was an extensive, one year and half project. Looking at the actual size of the company and in line with our long-term plan and vision, we decided that we needed to be more visible. It was about setting clear expectations to our ecosystem, moving from a tool to a brand, but also providing a promise to our team and users.
We can say that it was a success: we did not lose users and have gained customers since. We decided to stick to our brand launch plan despite the Covid-19 crisis. It actually gave us more time to go in-depth with that transformation.
Will you target the Asian market in the near future?
We don't plan to invest in Asia in the next twelve months

 »
Asia is an important region, but we do not plan to invest in it in the short-term, or at least not in the next twelve months. Our expansion is part of a long-term vision, but we move step by step to make sure we do it the right way. If we try to do everything and every country at the same time, it will be chaos and difficult to handle. We take one step at a time when it comes to adding new layers and features to OneFootball.
Let's talk audience and use of your app... What is the average age of your users? How can you make sure that the app is downloaded by more people?
Younger audiences are not hard-core fans dedicated to a single club

 »
Through our model, a media platform via an app, we have a clear focus on a young audience. Older audiences tend to go to publishers. Young users though value our aggregation just like they value Spotify for music, Instagram for content snacking, etc. They are looking to find the answer to "How can I kill my time in the best way?". Furthermore, younger audiences are not hard-core fans dedicated to a single club. They download our app because we are broad and have the best content offering for every fan, no matter if they are interested in a team, league, player or simply want to consume content in a specific language.
Our customer base is growing

 »
Our customer base is growing. To do so, we use a mix of all available marketing streams. For instance, we have a team of around 25 full time employees working in influencer marketing.
How did OneFootball overcome the Covid-19 crisis and the lack of live football?
Useful to have an entrepreneur at the head of the company in times of crisis

 »
Every company has had difficulties during the Covid-19 period. I believe that during these periods, it is helpful to have an entrepreneur running the company as they are normally less risk averse. We had a solid contingency plan in place during the crisis with the first objective to invest and not to divest. It is what we did, and we will continue to do so. The second one was to keep the whole team on board. Again, it is what we did, and we even started hiring people again to further develop the business. After a period of short-time work, our entire staff is now back to regular working hours. OneFootball has therefore fulfilled the objectives it set itself at the start of the crisis.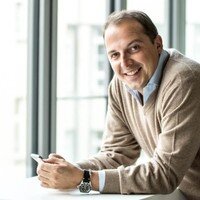 Career
Since 2008
OneFootball
CEO & founder
March, 2006 - march, 2008
Horstmann Group
Assistant to Owner and CEO
---
# 40211, created on 18/08/20 at 12:30 - Updated on 18/01/21 at 18:36
OneFootball
Sector: football application (scores, statistics, news, videos)
- Available in 12 languages with 6 main languages (EN, DE, FR, ESP, ITA, POR/BRA) with a dedicated editorial staff
Founded: 2008
Headquarters: Berlin (Germany)
Active users: 85 millions
- 60 sessions per user per month on average
- 75% of users aged between 13 and 34 years old
CEO: Lucas von Cranach
COO: Franz Koch
Workforce: 220 employees

Minority shareholder clubs and federation : Arsenal FC, FC Barcelona, FC Bayern Munich, Chelsea FC, Juventus FC, Liverpool FC, Manchester City FC, Paris Saint-Germain, Real Madrid CF, Olympique de Marseille, DFB, Borussia Dortmund and Tottenham Hotspur FC.
Main sports rights offered pay-per-view:
• Germany via Sky Deutschland: €3.99/match for the 2.Bundesliga and DFB-Pokal
• Germany, Austria and Switzerland via Sportdigital: €1.99/match Eredivisie (NED), Liga NOS (POR), A-League (AUS), Chinese Super League (CHN), Fortuna Liga (CZE), Ekstraklasa (POL), J.League (JPN), Copa do Brasil (BRA), Copa de la Superliga (ARG), CONCACAF Champions League, K League (KOR), 2021 Copa America
• Globally (excluding Poland and Africa) via SPORTFIVE €1.99 per Polish Cup match

Main sports rights offered free-to-air:
• Bundesliga and 2.Bundelsiga in Brazil (2020-2023) and in other South American countries (2020-21)
• DFB-Pokal (France, Italy, UK and the Netherlands)
• Serie A TIM (2022-23 - ) : UK and Ireland, one game per matchday for free on digital
• Jupiler Pro League (France, Germany, Spain, Italy, United Kingdom, Austria, Switzerland, Czech Republic, Slovakia, Hungary, Poland, Norway, Sweden, Finland, Denmark and Ireland). Pay-per-view broadcasting for playoff matches
• Scottish Premiership (2020-21, end of season): France, Spain, Canada (free), Belgium, Luxembourg, Netherlands, Switzerland (pay-per-view)
• Ligue 1 Uber Eats in Brazil (2020-21)
• K Legaue, in Italy, France, Spain, United Kingdom and Brazil
• Regionalliga (German fourth division) via Sporttotal in Germany
• Preliminairy rounds of the European Cups internationally (except the countries of the clubs involved in the game)
Main match highlights rights:
- Germany
- via Sky Deutschland: Premier League
- via DAZN: LaLiga Santander, Serie A TIM, Ligue 1 Uber Eats, Carabao Cup, Copa del Rey, Coupe de France
- Italy
- Serie A TIM, the Coppa Italia and the Supercoppa Italiana: exclusive rights to create videos in the form of NFTs from 2022-23

---
Category: Media

---
Headquarters address
Greifswalder Str. 212
10405 Berlin Germany
---
Visit in the directory
---
# 10104, created on 25/08/20 at 03:54 - Updated on 12/08/22 at 11:57